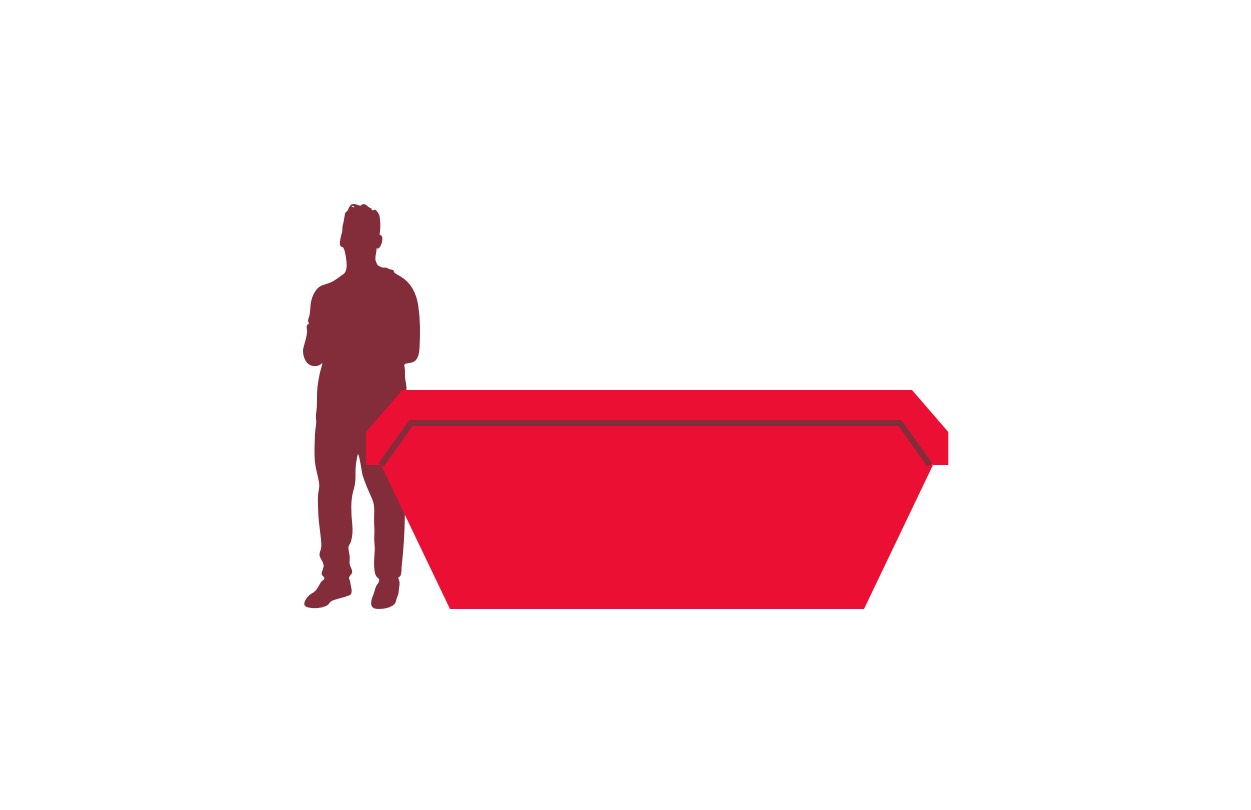 Skips are an important part of any waste management system. They are important for many reasons. They help to keep the environment clean by disposing of waste in a responsible manner. Skips also provide an opportunity to recycle certain materials that would otherwise end up in the landfill.
Skips work best for large amounts of waste that have been accumulated over a long period of time. This is because they have a large capacity and can handle a load very quickly. They are not able to handle small household or office waste, or recycling materials that don't present well in bulk quantities, such as cardboard boxes and paper products.
A skip is usually hired or rented, rather than bought, for both industrial, commercial and domestic waste, from one day up to several months at a time. The skip hire industry is estimated to be worth around £1 billion per year in the UK alone.
In this guide, we're going to be answering some of the most common questions we get asked.
What Types of Waste can Skips Take?
There are various types of waste that can be thrown into a skip in Telford. The most common type of waste disposed of using skips is;
Household and garden waste: This is the most common type of waste that is disposed of in skips. It can also include materials like leaves, grass cuttings, small branches and logs. Your local council may offer advice on how to dispose of these items safely.
Commercial and industrial waste: This type of waste includes materials such as soil, wood (other than logs), plasterboard, bricks or concrete products like blocks or slabs.
Trade waste: Materials such as chemicals and pesticides are not classed as household or commercial but they do need to be disposed of professionally using a specialist disposal company.
As well as these types, there are many other materials that can be disposed of in a skip. These include garden refuse, furniture, green waste and hazardous materials.
Choosing the Right Size Skip for Your Needs
There are different sizes of skips for hire and the cost of hiring a skip depends on the size, type and hire period.
This is your handy reference for skips, when you need to know:
What is the name of each skip size?

How large each skip size is

How many bin bags can a skip hold?

How does hiring a skip cost?

What size skip should I hire?
1. What is the name of each skip size?
When searching for or booking a skip, some people refere to them by size, others by specific names, which can sometimes become a bit confusing when you aren't sure which one you need. This will give a clear idea of what each one is.
2 yard skip – Mini skip
4 yard skip – Midi skip
5 yard skip – Maxi skip
6 yard skip – Small builders skip
8 yard skip – Large builders skip
For any skips larger than these, such as 10 yard skips or 16 yard skips, they are usually referred to by their size.
2. How large each skip size is
When looking for a skip, you will normally see them marked as X size, 2 yard skip or even 2 cuyd skip, but what does this actually mean?
Well, the 2 yards/cuyd refers to 2 cubic yards. However, if yards are not your preferred measurement, here are the approximate measurements for all of our skips in cm, from 2 yards to 16 yards.
2 yard skip – 200cm (L) x 70cm (D) x 140cm (W)
4 yard skip – 290cm (L) x 90cm (D) x 140cm (W)
5 yard skip – 290cm (L) x 90cm (D) x 180cm (W)
6 yard skip – 310cm (L) x 110cm (D) x 180cm (W)
8 yard skip – 380cm (L) x 120cm (D) x 180cm (W)
10 yard skip – 400cm (L) x 130cm (D) x 180cm (W)
12 yard skip – 400cm (L) x 150cm (D) x 180cm (W)
14 yard skip – 420cm (L) x 190cm (D) x 180cm (W)
16 yard skip – 440cm (L) x 200cm (D) x 180cm (W)
3. How many bin bags can a skip hold?
So now we know approximately how big the skips are, but what does that actually tell us?
Only how much space the skip is physically going to take up. What's more important to know is much you can fit in them, this then can give you a clearer idea of what size is best for you based on their capacity.
Each of these is the approximate number of bin bags each size of our skips can hold.
2 yard skip – 20 bin bag capacity approximately
4 yard skip – 40 bin bag capacity approximately
5 yard skip – 50 bin bag capacity approximately
6 yard skip – 60 bin bag capacity approximately
8 yard skip – 80 bin bag capacity approximately
10 yard skip – 100 bin bag capacity approximately
12 yard skip – 120 bin bag capacity approximately
14 yard skip – 140 bin bag capacity approximately
16 yard skip – 160 bin bag capacity approximately
4. How does hiring a skip cost?
And finally, we come down to how much it costs to hire a skip. These skips can be booked directly from our website and the prices are the starting amount for up to 14 days hire:
10 yard skip – £225 + VAT
We also have 12, 14 and 16 yard skip sizes available too. If you need to book one of these, the best thing to do is get in touch with us to discuss pricing and availability.
5. What size skip should I hire?
As skips can be used to dispose of a wide range of waste, this is meant to be a rough guide as to example situations where they are typically used.
2 yard skip: The mini skip is most ideal for residential use. Small household clean ups, garden clearances and small DIY projects.
4 yard skip: This skip is also a great choice for domestic clearances for small households, such as refurbishments for the kitchen or bathroom, as well as garden clearance.
5 yard skip: These skips are particularly useful for domestic use. kitchen and bathroom refits, as well as larger garden clearances.
6 yard skip: This skip can be used for small building projects, disposing of building and construction waste. It is also a popular choice for large house clear outs.
8 yard skip: This sized skip is more often used by builders or businesses for industrial or commercial waste management.
10 yard skip: This skip is more used for commercial waste disposal such as company clean ups and shop fittings. It can also be used for home renovations to garden clean ups, and even building sites.
Skip Security & Safety Tips
Here are a few tips when hiring a skip to ensure the safety of everyone and help you get the most out of your skip hire.
1. Load skips responsibly
When loading skips, there are a few tips to help you get the most out of the skip. When loading a skip, it is best advised to put the bulkier and heavier items at the bottom, this makes it simpler for delivery and collection drivers to transport and means that you will be able to fit more waste into the skip. This means that smaller items need to be placed on top of the skip, allowing the skip to fill naturally and letting you place smaller items in any gaps that are visible.
2. Don't overfill skip
When filling a skip, it is important to ensure that you do not overfill, the ideal fill point should be level loaded so that it is no higher than the sides of the skip. This is due to their being legal limits on how full a skip can be during transportation, if anything were to fall off during transport, the driver can be prosecuted because of it. If a skip is overfilled, the collection driver may not be able to take it and you maybe be liable for additional transport charges.
3. Consider where the skip is placed
The best place for a skip to be unloaded and placed is on a flat and stable surface. Having something to place the skip on top of, such as wooden beams helps reduce the impact and potential damage to the area it is placed. If the skip is being placed on a public road, it is likely you will need a permit from your local council, as well as additional safety measures put in place, like hazard lights to alert pedestrians or traffic of the placement of the skip.
Need to hire a skip? You can book a skip online here.