Cartwrights Waste Disposal has received a certificate of compliance for PAS402 and also become an affiliated member of the Green Compass scheme.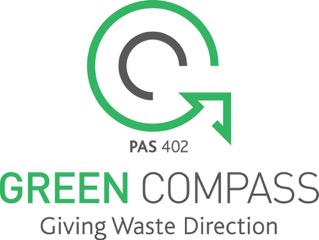 PAS 402 certification provides waste contractors and clients, assurance that waste is being managed
by an approved company who are dedicated to protecting the environment. PAS 402 requires a
waste resource management organisation to report how it conducts its waste management
activities, landfill diversion and material recovery rates. The Green Compass Scheme verifies this
data.
PAS 402 and the corresponding green Compass scheme certification was established for waste
management companies to provide a standard for performance reporting. It was developed by
Construction Excellence in Wales (CEW) whose efforts to minimise waste across the country were
being held back by the lack of accurate and reliable reporting.
Cartwrights Waste Disposal Services Limited has led the independent Waste Management sector in
Shropshire for nearly 40 years. Our broad range of services cover every aspect of collection, recycling
and disposal of waste generated by industrial, commercial, and residential sectors.
We are very pleased to have obtained the recycling performance standard, PAS 402: 2013 the award
recognises forward thinking businesses in the waste management sector and positively reflects on
those holding the accreditation, with BuildUK members and Local Authorities supporting the
scheme. By using a waste management contractor with PAS 402, projects are also able to attain
additional points for environmental performance under the BREAAM scheme.